I first fished Larkin Creek Pond (#3) a few weeks ago. Since then I've learned that Larkin Creek actually forms a number of ponds. I have seen 3, fished 2, and I think there may be a few others yet to be found.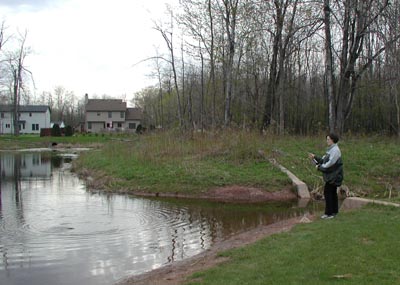 The pond that I call Larkin Creek Pond #2 is hidden in a housing division. There is a small piece of land that appears to be public where I park my car. The first few times I saw this water I didn't stop because I wasn't sure if I could park there. My wife and I decided to finally give it a try. We parked there last saturday and started to fish the water. We found that the water was pretty good for fishing. There are some weeds on the shoreline but the majority of the shoreline is clear. There is a large amount of subsurface weeds that start about ten feet into the water. This provides good shelter for bass but allows bluegill and other sunfish to spawn near the shore. The inlet to the pond flows at a fairly good pace as does the outlet.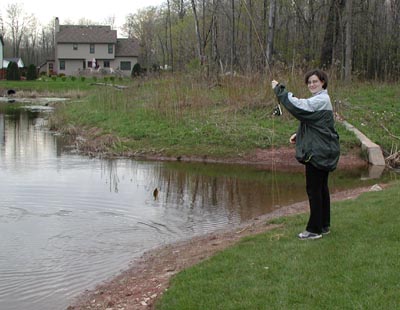 We first fished the closest water to the car. Within a few minutes Crystal caught her first fish, a nice bluegill. I too caught my first bluegill a few minutes later. We both ended up with a small bass before the night was through. After fishing there we moved towards the outlet. I had the idea of fishing there first but my wife being 7 months pregnant and faster on her feet than me got to fish it first. She had great luck there. Towards the other side and passed where we could walk and still stay dry there appeared to be an area of rocks near the shore. She pulled 6 or more fish from there before we were done for the night.
When we left we knew that we would have to go back to fish there. It was a nice pond with good fishing and it's not to far from home.
Author - MIKE
Date - 5/1/02