| | |
| --- | --- |
| Name: | Crystal Simmons |
| Location: | Rochester, New York |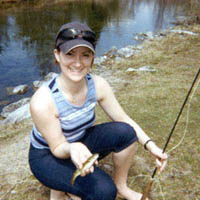 Crystal has been a devoted fly fisherwoman since the first fishing trip she went on with her husband Mike. They met in April 2002 and a week later they fished for the first time together the whole time with the rain coming steadily down. She often fishes small ponds near her home in New York and catches all kinds of warmwater fish. She has the record for the largest bluegill between her and her husband. Although she doesn't tie flies much she has tied in the past. The first trout she caught was on Purple Midge she tied. That Purple Midge was also the first fly she ever tied. Along with fishing and contributing articles to this website she has 2 young boys.