Last Saturday I found myself sitting in my car looking out the window at the rain and wondering if it was worth my time to get suited up to fish on Oatka Creek near my home in Rochester New York. When I pulled into the parking area for the creek I noticed about six other cars. It had been raining most of the day so I figured there was a good chance that these cars belonged to die hard trout fishermen and trout fisherwomen. I knew that if I let the rain deter me from fishing that day that I would never join these fishermens ranks. So the decision was made, I would fish.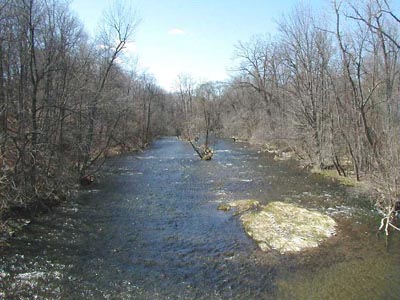 I opened my trunk and grabbed my boots, waders, and vest and brought them to the front seat of my car. My rod had been strung up from the night before (against most peoples opinions) but was set with a leader more made for bass instead of picky trout. So while I sat in the driver seat I reached to the passenger seat and changed leaders. I then decided to tie on a Bead Head Hare's Ear Pupa along with an indicator. After tying the fly on to the leader I clamped the fly with my forcepts and tossed it towards the trunk of my car so I could easily grab the fly and not let it get hooked as I took the rod out of the car.
After 15 minutes or so of getting settled I finally opened the car door and made my way to the trail that would take me to the creek. Remember it was raining most of the day and since I only own Orvis's $50 travel boots I wasn't quite ready for a muddy walk on the trail. I had plenty of opportunities to become one with mother nature as my feet slipped out from underneat me. Fortunately I was able to keep myself off the ground and ultimately uninjured.
A three or four minute walk down the trail finally led me to the edge of Oatka Creek. I stood there and looked at the water and for as far as I could see I could only see one other fisherman. He stood right at the edge of the public and the private club waters. From this spot on the creek he wasn't close enough to cause any trouble. Upstream I didn't see anyone fishing in spots I expected to see them in. With no one right at the first point the trail hits the water I decided it was best if I just fished there instead of making my way upstream to where I would ultimately run into other fishermen.
I gently walked into the water just above the ripples. The water here comes down for about 100 yards and is pretty well unbroken. I started to fish under an overhanging tree but didn't have much luck. I tried upstream just a few feet from that tree and still had no luck. I decided to try the seam in the water where the current meets and eddy. I tied on a bead head woolly bugger and tossed him out for a few casts. I got nothing. Since I wasn't having any luck with the bugger I switched back to the hare's ear and turned around to the other seam. This spot has fast water coming over the rocks and has a tree blocking the far side of the pool making casting interesting. I fished there for a few minutes but had no hits. Then finally I dug back into the archives of my mind to think about everything I might know about fishing. I thought of split shot. So I took out a piece or two and attached it about 6 inches from my fly. With my rod tip high in the air to avoid dragging the fly I drifted through the current. A few drifts later I had my lucky drift and a fish took the fly. I fought the beast for nearly 1 minute and finally pulled it out. I had caught a nice 10 inch brown trout. I gently released the hook and tossed her back.
Shortly after that fish I decided to leave my fly on a submerged piece of somthing in that hole. When trying to tie on more tippet it started to rain even harder. I finally got that new tippet on after 3 attempts and fished for another 20 minutes. After leaving my next fly on the exposed portion of the log I decided to call it a day.
I had barely covered 50 feet of the creek that day, but one lonely 10 inch brown trout made that wet day in the rain worthwhile.
Author - MIKE
Date - 4/19/02